0 The beginning of my blog
by

David Lawson

20-10-2017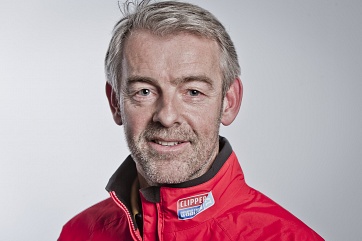 Back in 1971 my Dad took part in Operation Seafarer. The project was organised by the newly formed Seabird Group aboard the sailing yacht Aracan. The objective was to undertake the first comprehensive, detailed account of the abundance and distribution of seabirds breeding around the coasts of Britain and Ireland.
At the time, I was only 10 and don't recall a lot about it, but I know it was a 'big thing' for Dad to do and something he relished afterwards. Dad had been a keen dinghy sailor and birdwatcher and as children we'd been bought up on the water with a 'heron' dinghy and binoculars around our necks. So, as children, the lure of the water was within our DNA.
Birdwatching became a way of life for us as a family and even to this day I'm forever scanning the countryside to see what's about. Our interest in sailing diminished as we grew up, but later in life my brothers and I have all returned to the water in some form or other and now a younger generation of the family is finding pleasure in watersports and carrying this on.
And so, it was that I said to my wife, Andie, that I'd love to see an Albatross.
Now there are lots of ways to fulfill this and the normal way would be to board a plane and fly to one of the many places in the world you can observe an Albatross from the safe vantage point of land. But that would be easy and why do easy when you can make life a bit more challenging. So, for my birthday in 2013 Andie presented me with a gift that I will treasure for the rest of my life; an interview with the Clipper race team in Gosport.
For people who want to add a bit of a challenge to their lives, Clipper Ventures offer individuals the opportunity to pay for their passage as crew on one of twelve ocean race yachts which race against themselves on a 40,000-mile trip around the globe over 11 months. The circumnavigation is split into 8 Legs and individuals can sign up for as many Legs as they want to do. Each boat has a professional skipper and the paying crew have 4 weeks training to give them the basic skills they will need to take part in the race.
Now I'd seen the adverts before and it's one of those things I thought I'd like to do but that was probably as far as it was going to go. Then Andie stepped in. So, I went to Gosport, I listened to the presentation, I talked to others like me who wanted to add something to their life, I had my interview and I signed up. That was it. Easy. Now all I had to decide was which Leg I'd do.
Now I'm one of those people who always likes a challenge and with that in mind I decided early on that it would be the Southern Ocean for me. My 'Everest' of the seas, and my daughter Lauren probably summed it up best "Dad, for 4 weeks you're just going to be wet, cold, tired and hungry". I'd probably add 'scared' to that as well as I'm going to be in situations I've never been in before. Clipper describe the Southern Ocean Leg from Cape Town in South Africa to Freemantle on the west coast of Australia as a 'sleigh ride'. Surfing a 70-foot racing yacht down 30 feet of rolling swell is going to something of a challenge, to put it mildly.
So, with Leg 3 decided upon I also determined that I wanted to do Leg 4 as this takes in a West to East trip around Australia and the prestigious Sydney to Hobart Yacht Race. My decision about Leg 4 also centered upon developing my yachting capabilities. If the Southern Ocean is going to be a 'bucking bronco sleigh ride' then I want to use the Australia Leg as an opportunity to consolidate my learning of how to sail and handle a 70-foot racing yacht and to come off the boat knowing that if I'm ever sailing a yacht again and challenging conditions arise then I'll know what to do, I'll be confident that I can manage the boat and the people with me will be safe.
PSP Logistics: my home across the oceans
The Clipper 70
Departing for Cape Town on 24th October these 2 Legs will cover 9,000 nautical miles over 12 weeks and there should be plenty of opportunity for me to achieve my dream and see an Albatross or two in their natural habitat amongst the lonely wilderness of the ocean. I can't wait.
Now there is a danger with sailing as part of a Clipper race. It effects people in very funny ways and I've seen this first hand with people I've trained with over the past 15 months and it is known as 'Leg creep'. Now many suffer from it and I thought I'd be immune to it but over a couple of gin and tonics one Sunday evening Andie and I both agreed that I should also do the final Leg of the race from New York back to London-Derry and finally back to the starting point of the race, Liverpool on 28th July 2018. It will give me a crossing of the North Atlantic and 4,000 nautical miles to add to my rapidly growing sailing Log.
Whilst Andie and I have fully funded this adventure I'm also keen to raise some funds for charity. Clipper have partnered up with Unicef but I want to do something for a charity which is more meaningful to me. With this in mind, I have teamed up with the National Kidney Federation (NKF) Charity based in Mansfield. My eldest daughter Rebecca has suffered with kidney problems from a young age and now manages on only one kidney. In August she rang me to tell me that shortly after I get back from the first two Legs of my travels I will also become a grand-parent for the first time, which is marvelous news. The National Kidney Federation undertake some wonderful work and I hope that as this blog of my adventure to chase the Albatross unfolds, people will be inclined to make a donation and help a worthwhile cause.
http://www.justgiving.com/chasingthealbatross
If you need any motivation to donate just remember the words of my youngest daughter Lauren "wet, cold, tired and hungry".
Thank you for your support and I hope you enjoy this journey with me.
To follow my journey aboard PSP Logistics click on the following link:
https://clipperroundtheworld.com/race/standings
Scroll down the page and you'll find PSP Logistics. Click on the boat name and you'll open a page which will enable you to see a daily report from our skipper, Roy Taylor, and from time to time you'll be able to access a crew diary post and up to date news of the race.